Doctors
Meet the experienced and friendly dentists who make Franco & Associates Family and Cosmetic Dentistry the leading provider of oral hygiene and personalized dental services in St. Paul.
---

Gloria Lopez Franco DDS
Dr. Gloria Franco received her Masters of Science from the University of Wisconsin-Madison and her Doctor of Dental Surgery from the University of Minnesota. Dr. Franco has completed a residency for advanced education in General Dentistry from Marquette University. Other advanced training includes Adult Dentistry, Pediatric Dentistry, Implants, Oral Surgery, and Endodontics. Besides postgraduate accomplishments, she has published numerous articles in dental journals. In 2014 Dr. Franco joined the teaching staff at the University Of Minnesota School Of Dentistry.
Dr. Franco is passionate about learning about cutting edge knowledge and techniques to better serve her patients. She takes numerous Continuing Education courses at prestigious institutions like the University of Minnesota and Spear Education Institute. She meets monthly with a group of dentist specialists to discuss cases and exchange experiences and skills. Dr. Franco is a life long learner to pleasurably do the best she can do for every patient that comes under her care.
Dr. Franco grew up in Colombia, South America. She received her dental degree from the University of Antioquia in 1996. She is bilingual and enjoys treating patients of Hispanic origins. Dr. Franco volunteers for various family and women's charities. Dr. Franco also enjoys painting, you may find some of her pieces in the office when you visit for your next appointment! You can see a couple of examples below!
---




Academic Research
American Dental Association
Saint Paul District Society
American academy of General Dentistry


The National Dental Practice-Based Research Network
Omicron Kappa Upsilon Honor Dental Society
Gloria E. Lopez Franco
University of Wisconsin Madison
Publications: 8|Citations: 18
---
Frank J. Milnar DDS, AAACD
Dr. Milnar is a Smile Designer. He is a master technician with a strong foundation in general, preventative and restorative care. He is also an artisan, a dentist skilled in the applied art of smile design and enhancement.   He understands that it is a blend of smile beauty and smile health that creates a winning smile.

That's why Dr. Milnar is recognized for his advancement of the field of cosmetic dentistry as a dentist and as an educator and publisher. He is committed to understanding and teaching the latest techniques in restorative and cosmetic care. His fine sense of esthetics and technical expertise are well regarded internationally and he lectures abroad and publishes work on the latest techniques in cosmetic care.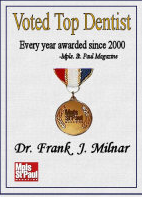 Dr. Frank J. Milnar is one of 360 fully Accredited members by the American Academy of Cosmetic Dentistry and a Board Examiner for Accreditation. Dr. Milnar emphasizes appearance related dentistry. He has published numerous articles about the direct placement of composites, shade selection, porcelain materials, Minimally Invasive Dentistry and is on editorial review boards for numerous dental journals.. Dr. Milnar is co-founder of the Minnesota Academy of Cosmetic Dentistry and has lectured extensively within the U.S. Armed Forces as well as internationally. He has been voted "Top Dentist" and voted into the" Top Dentist Hall of Fame" for the last five years by his peers in the Minneapolis/St. Paul Magazine. He has been voted by Dentistry Today as one of the top 100 dentists contributing to dental education. Most recently, Dr.Milnar was nominated to the University of Minnesota School of Dentistry Continuing Education Advisory Board.

Review Dr. Milnar's professional and artistic background and see why he is considered one of the finest esthetic based restorative dentists in the nation.