Digital X-Rays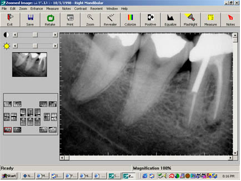 Dental x-rays have been "good enough" in the past, but with today's modern dentistry technology a more accurate diagnosis is required. Enter the digital x-ray. Because of fluoridated water, tooth enamel has become much harder and decay-resistant. This is a good thing for your overall oral health. However, it also makes decay much harder to detect. Often the decay does not even show up on a traditional x-ray.
Franco & Associates Family and Cosmetic Dentistry's digital x-rays provide:
Clearer, high accuracy images
Accurate diagnosis
Detection of leaks and/or fractures in existing fillings
Prevention of major damage due to early detection
Reduction in the likelihood of major dental procedures due to early detection
Digital x-ray technology produces up to 90% less radiation than earlier methods. In addition, there's no "waiting for the x-ray to develop." Extremely accurate pictures are available instantly and stored on computer where they will always be available.